Products
IBM IBM 3592 Tape Controller Model C07 (3592-C07)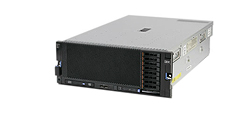 get a quick quote
The new IBM System Storage Tape Controller Model C07 delivers performance and reliability for IBM System z® customers.
Tape Controller Model C07 has up to four 4-Gbps FICON attachments. The Tape Controller Model C07 offers four 8-Gbps Fibre Channel adapters for attaching 3592 Tape Drives, and up to 16 of the IBM 3592 Tape Drives can be attached to a single Tape Controller Model C07.
The controller can be installed in an IBM 3952 Tape Frame Model F05, IBM TS3500 (3584) Tape Library frames, and stand-alone racks.
The Tape Controller Model C07 can be ordered with integrated library management functionality. This replaces the need for a separate 3953-L05 Library Manager.
For high availability, the first two Model C07 controllers that are connected to a common TS3500 logical library will both have the library management feature. This will allow library activity to continue during code loads and outages on any single controller.
To reduce the need for software updates, the library management interface to the System z server will remain unchanged for this functionality.
---