Products
IBM BladeCenter E (8677)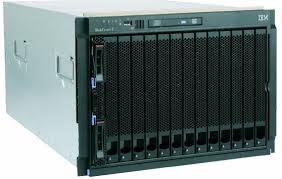 get a quick quote
Open and easy management tools deliver advanced, proactive management, providing rich and broad systems management capabilities.
Predictive Failure Analysis helps save you time and money by decreasing unplanned downtime.
Light path diagnostics provides a quick and easy guide to troubleshoot your blade servers to help provide higher availability and system uptime.
Calibrated Vectored Cooling™ helps maintain the health of your system by keeping internal components cool.
7U rack-optimized chassis
Up to 14 blade server bays for extreme performance density
Up to four hot-swap and redundant switch modules supporting Gigabit Ethernet (GbE), Fibre Channel (FC), SCSI over IP (iSCSI) and Serial Attached SCSI (SAS)
Up to four 2000 W or 2320 W hot-swap and redundant load-balancing power supply modules
High-availability midplane helps enable maximum uptime and investment protection for future technologies
---
| | | |
| --- | --- | --- |
| Feature Code | Name / Description | |
| 44E5696 | 44E5696 Cisco 4Gb FC 20 Port Switch for IBM BladeCenter | + GET A QUOTE |
| 44E5692 | 44E5692 Cisco 4Gb FC 10 Port Switch for IBM BladeCenter | + GET A QUOTE |
| 73P9057 | 73P9057 Nortel Networks Layer 2-7 Gb Ethernet Switch Module | + GET A QUOTE |
| 39Y9320 | 39Y9320 IBM BladeCenter Copper Pass-thru Module | + GET A QUOTE |
| 32R1905 | 32R1905 McData 4Gb 10-port Fibre Channel Switch Module for eServe | + GET A QUOTE |
| 32R1904 | 32R1904 QLogic 4Gb 10-port Fibre Channel Switch Module for eServer | + GET A QUOTE |
| 32R1892 | 32R1892 Cisco Systems Intelligent Gb Ethrnt Sw Mod for IBM BladeCenter | + GET A QUOTE |
| 32R1888 | 32R1888 Cisco Systems Fiber Intelligent Gb Ethrnt Sw Mod for IBM BladeCenter | + GET A QUOTE |
| 32R1859 | 32R1859 IBM BladeCenter Layer 2-7 Gigabit Ethernet Switch Module | + GET A QUOTE |
| 32R1833 | 32R1833 McDATA 4Gb 20-port Fibre Channel Module for eServer BladeCenter | + GET A QUOTE |
| 32R1813 | 32R1813 Brocade 4Gb 10-port SAN Switch Module for IBM eServer BladeCenter | + GET A QUOTE |
| 32R1812 | 32R1812 Brocade 4Gb 20-port SAN Switch Module for IBM eServer BladeCenter | + GET A QUOTE |
| 32R1783 | 32R1783 Nortel 10Gb Uplink Ethernet Switch Module for IBM BladeCenter | + GET A QUOTE |
| 26R0881 | 26R0881 QLogic 4Gb 20-port Fibre Chan Switch Module for eServer | + GET A QUOTE |
| 26K6531 | 26K6531 Nortel L2/3 Fiber GbESM for IBM eServer BladeCenter | + GET A QUOTE |
| 26K6530 | 26K6530 Nortel L2/3 Copper GbESM for IBM eServer BladeCenter | + GET A QUOTE |
| 26K6454 | 26K6454 Topspin InfiniBand switch module for IBM eServer BladeCenter | + GET A QUOTE |
| 13N2281 | 13N2281 Cisco Systems Intelligent Gb Ethernet Switch Module | + GET A QUOTE |
| 32R1860 | 32R1863 IBM BladeCenter Layer 2/3 Copper Gb Ethernet Switch Module | + GET A QUOTE |
| 32R1861 | 32R1864 IBM BladeCenter Layer 2/3 Fiber Gb Ethernet Switch Module | + GET A QUOTE |
| 32R1900 | 32R1901 Cisco Systems InfiniBand switch module for IBM BladeCenter | + GET A QUOTE |
| 39Y9316 | 39Y9317 IBM BladeCenter Optical Pass-thru Module for IBM BladeCenter | + GET A QUOTE |
| 39Y9324 | 39Y9325 Server Connectivity Module for IBM BladeCenter | + GET A QUOTE |
| 90P0165 | 90P0165 Brocade Enterprise SAN Switch Module | + GET A QUOTE |
| 26K6547 | 26K6547 Cisco Fiber GbESM for IBM eServer BladeCenter | + GET A QUOTE |
| 39Y9284 | 39Y9284 CS 4Gb 10 port Fibre Channel Switch Module for IBM BladeCenter | + GET A QUOTE |
| 39Y9280 | 39Y9280 Cisco Systems 4Gb 20-port Fibre Channel Module | + GET A QUOTE |
| 43W6725 | 43W6725 Qlogic 20-port 4Gb SAN Switch Module for IBM BladeCenter | + GET A QUOTE |
| 43W6724 | 43W6724 Qlogic 10-port 4Gb SAN Switch Module for IBM | + GET A QUOTE |
| 43W6723 | 43W6723 QLogic 4Gb Intelligent Pass-thru Module for IBM | + GET A QUOTE |
| 39Y9195 | 39Y9194 IBM BladeCenter SAS Connectivity Module | + GET A QUOTE |
| 43W4395 | 43W4395 Cisco Catalyst Switch Module 3012 for IBM BladeCenter | + GET A QUOTE |
| 41Y8523 | 41Y8523 Cisco Catalyst Switch 3110G for IBM BladeCenter | + GET A QUOTE |
| 41Y8522 | 41Y8522 Cisco Catalyst Switch 3110X for IBM BladeCenter | + GET A QUOTE |
| 44W4483 | 44W4484 Intelligent Copper Pass-thru Module for IBM BladeCenter | + GET A QUOTE |
| 44W4404 | 44W4405 IBM 1/10Gb Uplink Ethernet Switch Module for IBM BladeCenter | + GET A QUOTE |
| 44X1905 | 44X1908 Qlogic 20-port 8Gb SAN Switch Module for IBM BladeCenter | + GET A QUOTE |
| 44X1907 | 44X1910 QLogic 8Gb Intelligent Pass-thru Module for IBM BladeCenters | + GET A QUOTE |
| 44X1920 | 44X1922 Brocade 20-port 8Gb SAN Switch Module for IBM BladeCenter | + GET A QUOTE |
| 44X1921 | 44X1923 Brocade 10-port 8Gb SAN Switch Module for IBM BladeCenter | + GET A QUOTE |
| 42C1828 | 42C1829 Brocade Enterprise 20-port 8Gb SAN Switch Module for IBM BladeCenter | + GET A QUOTE |
| 39Y9128 | 39Y9129 Nortel Port Aggregator L1 | + GET A QUOTE |
| 88Y6055 | 88Y6055 Cisco 10GBASE-SR SFP+ Transceiver | + GET A QUOTE |
| 88Y6059 | 88Y6059 Cisco 1000BASE-T SFP Transceiver | + GET A QUOTE |
| 88Y6063 | 88Y6063 Cisco 1000BASE-SX SFP Transceiver | + GET A QUOTE |
| 88Y6410 | 88Y6410 QLogic 4/8 Gb Intelligent Pass-thru Module for IBM BladeCenter | + GET A QUOTE |
| 88Y6406 | 88Y6406 QLogic 20-port 4/8 Gb SAN Switch Module for IBM BladeCenter | + GET A QUOTE |
| 32R1822 | 32R1822 Brocade 10-port Upgrade for IBM BladeCenter | + GET A QUOTE |
| 73P6100 | 73P6100 IBM eServer BladeCenter Copper Pass-thru Module | + GET A QUOTE |
| 48P7062 | 48P7062 BladeCenter 2-port Fibre Channel Switch Module | + GET A QUOTE |
| 48P7054 | 48P7054 BladeCenter 4-port Gb Ethernet Switch Module | + GET A QUOTE |
| 32R1790 | 32R1790 McDATA® 6-port Fibre Channel Switch Module for BladeCenter | + GET A QUOTE |
| 26K6477 | 26K6477 QLogic 6-Pt Enterprise Fibre Channel Switch Module | + GET A QUOTE |
| 26K5601 | 26K5601 Brocade Entry SAN Switch Module | + GET A QUOTE |
| 13N0568 | 13N0568 BladeCenter 4-port Gb Ethernet Switch Module | + GET A QUOTE |
| 02R9080 | 02R9080 BladeCenter Optical Pass-thru Module | + GET A QUOTE |
| 25R5779 | 25R5779 IBM BladeCenter KVM/Advanced Management Module | + GET A QUOTE |
| 48P7055 | 48P7055 BladeCenter Redundant KVM/Management Module | + GET A QUOTE |
| 17351GX | 17351GX IBM Local 2x8 Console Manager (LCM2) | + GET A QUOTE |
| 17352GX | 17352GX IBM Global 2x16 Console Mngr(GCM2) | + GET A QUOTE |
| 46M6730 | 46M6730 IBM BladeCenter PCI Express Gen 2 Expansion Blade | + GET A QUOTE |
| 46M6772 | 46M6772 IBM BladeCenter GPU Expansion Blade with NVIDIA Tesla M2070Q | + GET A QUOTE |
| 46M6771 | 46M6771 IBM BladeCenter GPU Expansion Blade with NVIDIA Tesla M2075 | + GET A QUOTE |
| 68Y7478 | 68Y7478 IBM BladeCenter GPU Expansion Blade II with NVIDIA Tesla M2075 | + GET A QUOTE |
| 32R1878 | 32R1878 10GbE 1310 nm Fiber XFP Transceiver (LR) for IBM BladeCenter | + GET A QUOTE |
| 32R1877 | 32R1877 10GbE 850 nm Fiber XFP Transceiver (SR) for IBM BladeCenter | + GET A QUOTE |
| 39Y9122 | 39Y9122 IBM Short Wave SFP Module | + GET A QUOTE |
| 44W4409 | 44W4409 10GbE 850 nm Fiber SFP+ Transceiver (SR) for IBM BladeCenter | + GET A QUOTE |
| 44X1968 | 44X1968 IBM 8Gb SFP + SW Optical Transceiver | + GET A QUOTE |
| 44X1966 | 44X1966 Brocade 8Gb SFP+ SW Optical Transceiver1 | + GET A QUOTE |
| 25K8373 | 25K8373 IBM eServer BladeCenter PCI I/O Expansion Unit II | + GET A QUOTE |
| 43W4391 | 43W4391 IBM BladeCenter PCI Express I/O Expansion Unit | + GET A QUOTE |
| 22R4242 | 22R4242 4Gb Short Wave SFP Module | + GET A QUOTE |