Products
IBM DS5100 Disk System 1818-51A (1818-51A)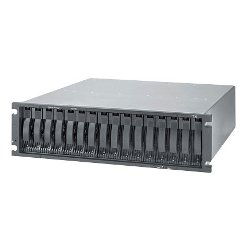 get a quick quote
The IBM DS5100 Model 51A is a high-performance storage controller.
The DS5100 storage controller is packaged in a 4U rack-mountable enclosure and has dual-active RAID controllers that operate at 4 Gbps or 8 Gbps FC speeds and 1 Gbps speed for attachment to iSCSI hosts.
The DS5100 offers modular host ports that provide a choice of eight or sixteen FC host ports (four or eight ports per RAID controller); or four or eight iSCSI host ports (two or four ports per controller); or a combination of eight FC host ports and four iSCSI host ports (four FC host ports and two iSCSI host ports per controller). The FC host port cards come with the appropriate number of pluggable, shortwave SFP transceivers to populate the host ports.
The DS5100 is designed with sixteen disk expansion ports for attachment of EXP5000 Storage Expansion Units and EXP5060 High Density Storage Enclosures.
The DS5100 comes with base support that enables attachment of up to 16 EXP5000 expansion units.
The DS5100 with requisite attachment features installed can attach up to 28 EXP5000 storage expansion units providing up to 896 TB storage or up to 8 EXP5060 high density storage enclosures that can provide up to 960 TB physical storage capacity.
---