Products
IBM BladeCenter HS23 (7875)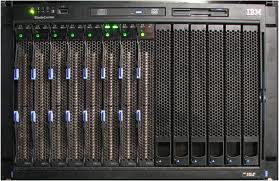 get a quick quote
The IBM 7875 BladeCenter HS23 offers high performance balanced with flexible, scalable configuration options and simple management in an efficient server designed to run a broad range of workloads exceptionally well.
A feature-rich design enables the HS23 to run a broad range of workloads, including infrastructure, virtualization, and enterprise applications. This makes it ideal for cloud computing.
Integrated 10GbE Virtual Fabric allows for more scalable I/O solutions.
An extensive choice of processors, memory, internal storage, and I/O options allows flexible configurations.
The BladeCenter HS23 is supported in the BladeCenter H chassis (#8852), the BladeCenter HT chassis (#8740, #8750), the BladeCenter E chassis (#8677), and the BladeCenter S chassis (#8886). Some configuration limitations apply; refer to the Limitations section.
Next-generation Intel** Xeon** processor E5-2600 product family
High memory capacity with 16 DDR3 VLP memory DIMM slots supporting 1600 MHz memory and up to 256 GB of DDR3 memory.
High-speed I/O on the blade with integrated 10GbE Virtual Fabric
Support for running two DIMMs per memory channel at 1600 MHz.
Optional low-power processor, solid-state drives, and low-power memory DIMMs.
Energy-efficient 1.35 volt memory DIMM support.
Support for IBM Systems Director Active Energy Manager to help monitor and cap power consumption.
Innovative component layout and blade design to help keep the blade up and running even under demanding conditions.
---
| | | |
| --- | --- | --- |
| Feature Code | Name / Description | |
| 787591Y | 7875-91Y Intel Xeon Processor E5-2620 6C 2.0GHz 15MB Cache 1333MHz 95W | + GET A QUOTE |
| 787592Y | 7875-92Y Intel Xeon Processor E5-2650 8C 2.0GHz 20MB Cache 1600MHz 95W | + GET A QUOTE |
| 7875A1Y | 7875-A1Y Intel Xeon Processor E5-2603 4C 1.8GHz 10MB Cache 1066MHz 80W | + GET A QUOTE |
| 7875A2Y | 7875-A2Y Intel Xeon Processor E5-2609 4C 2.4GHz 10MB Cache 1066MHz 80W | + GET A QUOTE |
| 7875B1Y | 7875-B1Y Intel Xeon Processor E5-2620 6C 2.0GHz 15MB Cache 1333MHz 95W | + GET A QUOTE |
| 7875B2Y | 7875-B2Y Intel Xeon Processor E5-2640 6C 2.5GHz 15MB Cache 1333MHz 95W | + GET A QUOTE |
| 7875B3Y | 7875-B3Y Intel Xeon Processor E5-2630 6C 2.3GHz 15MB Cache 1333MHz 95W | + GET A QUOTE |
| 7875C1Y | 7875-C1Y Intel Xeon Processor E5-2650 8C 2.0GHz 20MB Cache 1600MHz 95W | + GET A QUOTE |
| 7875C2Y | 7875-C2Y Intel Xeon Processor E5-2670 8C 2.6GHz 20MB Cache 1600MHz 115W | + GET A QUOTE |
| 7875C3Y | 7875-C3Y Intel Xeon Processor E5-2665 8C 2.4GHz 20MB Cache 1600MHz 115W | + GET A QUOTE |
| 7875C4Y | 7875-C4Y Intel Xeon Processor E5-2670 8C 2.6GHz 20MB Cache 1600MHz 115W | + GET A QUOTE |
| 7875C5Y | 7875-C5Y Intel Xeon Processor E5-2680 8C 2.7GHz 20MB Cache 1600MHz 130W | + GET A QUOTE |
| 7875D1Y | 7875-D1Y Intel Xeon Processor E5-2650L 8C 1.8GHz 20MB Cache 1600MHz 70W | + GET A QUOTE |
| 7875E1Y | 7875-E1Y Intel Xeon Processor E5-2620 6C 2.0GHz 15MB Cache 1333MHz 95W | + GET A QUOTE |
| 7875E2Y | 7875-E2Y Intel Xeon Processor E5-2630 6C 2.3GHz 15MB Cache 1333MHz 95W | + GET A QUOTE |
| 7875E3Y | 7875-E3Y Intel Xeon Processor E5-2670 8C 2.6GHz 20MB Cache 1600MHz 115W | + GET A QUOTE |
| 7875F1Y | 7875-F1Y Intel Xeon Processor E5-2648L 8C 1.8GHz 20MB Cache 1600MHz 70W | + GET A QUOTE |
| 7875G1Y | 7875-G1Y Intel Xeon Processor E5-2630 6C 2.3GHz 15MB Cache 1333MHz 95W | + GET A QUOTE |
| 7875G2Y | 7875-G2Y Intel Xeon Processor E5-2670 8C 2.6GHz 20MB Cache 1600MHz 115W | + GET A QUOTE |
| 787593Y | 7875-93Y Intel Xeon Processor E5-2650 8C 2. 20MB Cache 1600MHz 95W0GHz | + GET A QUOTE |
| 7875A3Y | 7875-A3Y Intel Xeon Processor E5-2609 v2 4C 2.5GHz 10MB Cache 1333MHz 80W | + GET A QUOTE |
| 7875A4Y | 7875-A4Y Intel Xeon Processor E5-2603 v2 4C 1.8GHz 10MB Cache 1333MHz 80W | + GET A QUOTE |
| 7875B4Y | 7875-B4Y Intel Xeon Processor E5-2620 v2 6C 2.1GHz 15MB Cache 1600MHz 80W | + GET A QUOTE |
| 7875B5Y | 7875-B5Y Intel Xeon Processor E5-2630 v2 6C 2.6GHz 15MB Cache 1600MHz 80W | + GET A QUOTE |
| 7875B6Y | 7875-B6Y Intel Xeon Processor E5-2640 v2 8C 2.0GHz 20MB Cache 1600MHz 95W | + GET A QUOTE |
| 7875C9Y | 7875-C9Y Intel Xeon Processor E5-2650 v2 8C 2.6GHz 20MB Cache 1866MHz 95W | + GET A QUOTE |
| 7875CAY | 7875-CAY Intel Xeon Processor E5-2660 v2 10C 2.2GHz 25MB Cache 1866MHz 95W | + GET A QUOTE |
| 7875CBY | 7875-CBY Intel Xeon Processor E5-2670 v2 10C 2.5GHz 25MB Cache 1866MHz 115W | + GET A QUOTE |
| 7875CCY | 7875-CCY Intel Xeon Processor E5-2680 v2 10C 2.8GHz 25MB Cache 1866MHz 115W | + GET A QUOTE |
| 7875D2Y | 7875-D2Y Intel Xeon Processor E5-2650L v2 10C 1.7GHz 25MB Cache 1600MHz 70W | + GET A QUOTE |
| 7875E7Y | 7875-E7Y Intel Xeon Processor E5-2620 v2 6C 2.1GHz 15MB Cache 1600MHz 80W | + GET A QUOTE |
| 7875E8Y | 7875-E8Y Intel Xeon Processor E5-2650 v2 8C 2.6GHz 20MB Cache 1866MHz 95W | + GET A QUOTE |
| 7875E9Y | 7875-E9Y Intel Xeon Processor E5-2670 v2 10C 2.5GHz 25MB Cache 1866MHz 115W | + GET A QUOTE |
| 7875F2Y | 7875-F2Y Intel Xeon Processor E5-2697 v2 12C 2.7GHz 30MB Cache 1866MHz 130W | + GET A QUOTE |
| 7875G3Y | 7875-G3Y Intel Xeon Processor E5-2628L v2 8C 2.2GHz 20MB Cache 1600MHz 70W | + GET A QUOTE |
| 7875G4Y | 7875-G4Y Intel Xeon Processor E5-2658 v2 10C 2.4GHz 25MB Cache 1866MHz 95W | + GET A QUOTE |