Products
IBM BladeCenter HT (8740 / 8750)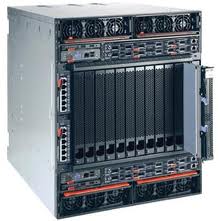 get a quick quote
High-speed I/O support including Virtual Fabric, 10 Gigabit Ethernet and 4 Gigabit Fibre Channel.
Delivers increased network infrastructure performance ideal for telecommunications service, control and transport plane applications.
Improves network flexibility and interoperability via support for many blade processor types and operating systems.
Advanced proactive management, providing rich and broad systems management capabilities.
NEBS Level 3/ETSI certified.
Long life models.
12U rack-optimized chassis supporting up to 12 blade server bays
Supports high-performance blade servers with Intel® Xeon®, AMD Opteron and IBM POWER® and a wide variety of operating systems, including Linux®, Windows®, IBM AIX® and Oracle Solaris
Up to four traditional hot-swap and redundant switch modules supporting Gigabit Ethernet and Fibre Channel
Up to four new high-speed capable switch module bays supported by 10 Gbps fabric
Four hot-swap and redundant load-balancing power supply modules, DC or AC power
Four hot-swap, redundant fan modules
Redundant removable media trays with optional Compact Flash, two external USB ports and full alarm management panel
High-availability midplane helps enable maximum uptime and enhances investment protection for future technologies
Hot-swappable midplane active components help provide maximum reliability for deployment into a telecommunications central office
Demonstrated history of compatibility so operators can standardize on a particular configuration for extended period of time
---