Products
IBM IBM TS3310 Tape Expansion Module (3576-E9U)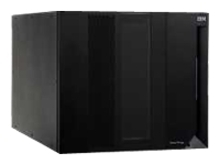 get a quick quote
The IBM System Storage Tape Expansion Library Model E9U is an optional 9U expansion module that can be stacked on top of or below a base TS3310 L5B Tape Library.
Each E9U Expansion Module can accommodate up to 4 LTO Ultrium 3 drives and up to 80 tape cartridge slots, and a configurable I/O station of 0 to 12 slots which can be fully accessed through feature number 1640.
Feature number 1640, ordered against the Model L5B Tape Library, is a license key that enables the Model E9U Expansion Library to access the remaining one half of the cartridge slots and enables one half of the cartridge slots in the next Model E9U Expansion Library.
One of these TS3310 E9U Expansion Modules can be stacked under a TS3310 L5B Tape Library, forming an integrated 14U tape library (5U base library and one 9U expansion module).
---