Products
IBM EXP5000 Expansion Unit 1818-D1A (1818-D1A)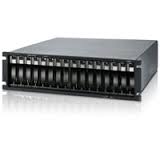 get a quick quote
The IBM 1818 expands the midrange disk storage offerings of high-performance, high availability, business-critical storage solutions with the IBM System Storage DS5000 series.
The IBM EXP5000 is a high-capacity Storage Expansion Unit. The EXP5000 is packaged in a 3U rack-mountable enclosure that houses 16 drive bays.
The EXP5000 can house up to 16 Fibre Channel or SATA disk drives or a combination of both types of drives.
The EXP5000 at-taches to the IBM DS5100 and DS5300 controllers to build physical storage configurations of up to 896 TB using 2 TB SATA disk drives or up to 268.8 TB using 600 GB FC disk drives.
Up to 28 EXP5000 expansion units, that houses up to 448 disk drives, can be attached to the DS5100 and DS5300 storage controllers.
The EXP5000 attaches to DS5000 controllers and other disk expansion units via four 4 Gbps drive ports.
The EXP5000 ships with two ports already populated.
---