Products
IBM IBM BladeCenter S (8886)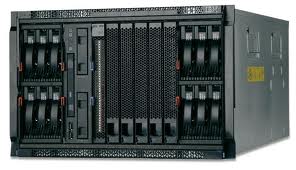 get a quick quote
All in one - integrates servers, SAN storage, networking and I/O into a single chassis.
The first blade chassis to incorporate a fully redundant SAN inside the BladeCenter S.
Open and easy management tools deliver advanced, proactive management, providing rich and broad systems management capabilities.
Predictive Failure Analysis® helps save you time and money by helping decrease unplanned downtime.
Calibrated Vectored Cooling™ helps maintain the health of your system by keeping internal components cool.
Available in the Office Enablement Kit, the ideal way to deploy BladeCenter S into the everyday office environment.
7U rack-optimized chassis
Up to six blade server bays
Up to two Disk Storage Modules supporting either 3.5-inch or 2.5-inch HDDs
Each 3.5-inch Disk Storage Module provides up to six 3.5-inch SAS, Nearline SAS or SATA, or an intermix of the disks
Each 2.5-inch Disk Storage Module provides up to twelve 2.5-inch SAS HDDs
Hot-swap and redundant switch modules supporting SAS, Gigabit Ethernet and Fibre Channel options
Up to four hot-swap and redundant load-balancing power supply modules
High-availability midplane helps enable increased uptime and investment protection for future technologies
---
| | | |
| --- | --- | --- |
| Feature Code | Name / Description | |
| 32R1813 | 32R1813 Brocade 4Gb 10-port SAN Switch Module for IBM eServer BladeCenter | + GET A QUOTE |
| 32R1860 | 40Y1126 IBM Layer 2/3 Copper Gb Ethernet Switch Module for IBM BladeCenter | + GET A QUOTE |
| 32R1861 | 40Y1128 IBM Layer 2/3 Fiber Gb Ethernet Switch Module for IBM BladeCenter | + GET A QUOTE |
| 39Y9316 | 40Y1138 IBM BladeCenter Optical Pass-thru Module | + GET A QUOTE |
| 39Y9324 | 40Y1142 Server Connectivity Module for IBM BladeCenter | + GET A QUOTE |
| 39Y9284 | 40Y1217 Cisco Systems 4Gb 10-port Fibre Channel Module | + GET A QUOTE |
| 43W6723 | 43W6723 QLogic 4Gb Intelligent Pass-thru Module for IBM | + GET A QUOTE |
| 43W6724 | 43W6724 Qlogic 10-port 4Gb SAN Switch Module for IBM | + GET A QUOTE |
| 43W4395 | 43W4398 Cisco Catalyst Switch Module 3012 for IBM BladeCenter | + GET A QUOTE |
| 39Y9195 | 39Y9195 IBM BladeCenter SAS Connectivity Module | + GET A QUOTE |
| 32R1859 | 32R1862 IBM BladeCenter Layer 2-7 Gigabit Ethernet Switch Module | + GET A QUOTE |
| 44W4483 | 44W4484 Intelligent Copper Pass-thru Module for IBM BladeCenter | + GET A QUOTE |
| 44W4404 | 44W4405 IBM 1/10Gb Uplink Ethernet Switch Module for IBM BladeCenter | + GET A QUOTE |
| 43W3584 | 43W3604 IBM BladeCenter S SAS RAID Controller Module | + GET A QUOTE |
| 44X1908 | 44X1908 Qlogic 20-port 8Gb SAN Switch Module for IBM BladeCenter | + GET A QUOTE |
| 44X1907 | 44X1910 QLogic 8Gb Intelligent Pass-thru Module for IBM BladeCenter | + GET A QUOTE |
| 44X1968 | 44X1968 IBM 8Gb SFP + SW Optical Transceiver | + GET A QUOTE |
| 88Y6406 | 88Y6407 QLogic 20-port 4/8 Gb SAN Switch Module for IBM BladeCenter | + GET A QUOTE |
| 88Y6410 | 88Y6411 QLogic 4/8 Gb Intelligent Pass-thru Module for IBM BladeCenter | + GET A QUOTE |
| 39Y9324 | 39Y9324 Server Connectivity Module for IBM BladeCenter | + GET A QUOTE |
| 39Y9320 | 39Y9320 IBM BladeCenter Copper Pass-thru Module | + GET A QUOTE |
| 39Y9316 | 39Y9316 IBM BladeCenter Optical Pass-thru Module | + GET A QUOTE |
| 32R1861 | 32R1861 IBM BladeCenter Layer 2/3 Fiber Gb Ethernet Switch Module | + GET A QUOTE |
| 32R1860 | 32R1860 IBM BladeCenter Layer 2/3 Copper Gb Ethernet Switch Module | + GET A QUOTE |
| 32R1783 | 32R1783 Nortel 10Gb Uplink Ethernet Switch Module for IBM BladeCenter | + GET A QUOTE |
| 39Y9284 | 39Y9284 CS 4Gb 10 port Fibre Channel Switch Module for IBM BladeCenter | + GET A QUOTE |
| 44X1905 | 44X1905 QLogic 20-port 8Gb SAN Switch Module for IBM BladeCenter | + GET A QUOTE |
| 2019B2X | 2019B2X IBM BladeCenter Open Fabric Manager for BC-S | + GET A QUOTE |
| 44W4409 | 44W4409 10GbE 850 nm Fiber SFP+ Transceiver (SR) for IBM BladeCenter | + GET A QUOTE |
| 39R6475 | 39R6475 4-Gbps SW SFP Transceiver | + GET A QUOTE |
| 32R1878 | 32R1878 10GbE 1310 nm Fiber XFP Transceiver (LR) for IBM BladeCenter | + GET A QUOTE |
| 32R1877 | 32R1877 10GbE 850 nm Fiber XFP Transceiver (SR) for IBM BladeCenter | + GET A QUOTE |
| 25K8373 | 25K8373 IBM eServer BladeCenter PCI I/O Expansion Unit II | + GET A QUOTE |
| 43W3583 | 43W3583 IBM BladeCenter S Serial Pass-thru Module | + GET A QUOTE |