Products
IBM Storwize V7000 Expansion 12 2076-212 (2076-212)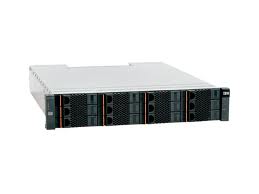 get a quick quote
The IBM 2076 Storwize V7000 disk system is IBM's newest midrange disk offering; built on IBM System Storage SAN Volume Controller technology, specifically designed to help address midrange or departmental storage requirements.
The IBM 2076 Storwize V7000 Expansion Enclosure Model 212 is for twelve 3.5-inch drives with dual-switched 6 Gbps ESMs, and dual power supplies with cooling components.
IBM Storwize V7000 Expansion Enclosure has a physical storage capacity of up to 24 TB per enclosure using 2 TB Nearline SAS DDMs, and up to 14 TB per enclosure using 600 GB SAS DDMs.
---