Products
IBM EXP5020 Disk System - 1814-52A (1814-52A)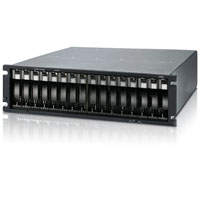 get a quick quote
The IBM 1814 System Storage DS5020 disk system is IBM's midrange disk offering
Specifically designed to help address midrange or departmental storage requirements.
The IBM 1814 EXP520 Expansion Unit is a high-capacity 16-drive bay unit in a 3U rack-mountable enclosure.
Up to six EXP520 expansion units can be attached to the 5020 disk unit, providing modular storage solutions
Up to 112 TB physical storage capacity.
---
| | | |
| --- | --- | --- |
| Feature Code | Name / Description | |
| 4000 | DS5020 750 GB/7200 SATA Disk Drive Module (DDM) | + GET A QUOTE |
| 4001 | DS5020 1000 GB/7200 SATA Disk Drive Module (DDM) | + GET A QUOTE |
| 4002 | DS5020 2 TB/7200 rpm SATA II Disk Drive Module (DDM) | + GET A QUOTE |
| 4200 | 40K6823 DS5020 4 Gbps FC, 146.8 GB/15K Disk Drive Module (DDM) | + GET A QUOTE |
| 4007 | DS5020 4 Gbps FC, 146.8 GB/15K Disk Drive Module (DDM) | + GET A QUOTE |
| 4201 | 42D0417 DS5020 4 Gbps FC, 300 GB/15K Disk Drive Module (DDM) | + GET A QUOTE |
| 4202 | DS5020 4 Gbps FC, 450 GB/15K Disk Drive Module (DDM) | + GET A QUOTE |
| 4203 | 59Y5336 DS5020 4 Gbps FC, 600 GB/15K Disk Drive Module (DDM) | + GET A QUOTE |
| 4205 | 300GB 15,000 rpm 4Gb FC DDM2 | + GET A QUOTE |
| 4206 | 450GB 15,000 rpm 4Gb FC DDM2 | + GET A QUOTE |
| 4400 | 44E5638 DS5020 Encryption Capable 4 Gbps FC, 146.8 GB/15K DDM | + GET A QUOTE |
| 4401 | 44E5642 DS5020 Encryption Capable 4 Gbps FC, 300 GB/15K DDM | + GET A QUOTE |
| 4402 | 44E5646 DS5020 Encryption Capable 4 Gbps FC, 450 GB/15K DDM | + GET A QUOTE |
| 4403 | 59Y5341 DS5020 Encryption Capable 4 Gbps FC, 600 GB/15K DDM | + GET A QUOTE |
| 5590 | 73 GB Solid State Drive (SSD) | + GET A QUOTE |
| 5591 | 300 GB Solid State Drive (SSD) | + GET A QUOTE |
| 5592 | 200 GB FC-SAS SOLID STATE DISK DRIVE (SSD) | + GET A QUOTE |
| 5593 | 400 GB FC-SAS SOLID STATE DISK DRIVE (SSD) | + GET A QUOTE |
| 6010 | 3 TB 7,200 rpm FC-SAS NL Disk drive module | + GET A QUOTE |
| 6110 | 300 GB 10,000 rpm FC-SAS disk drive module | + GET A QUOTE |
| 6112 | 600 GB 10,000 rpm FC-SAS disk drive module | + GET A QUOTE |
| 6113 | 900 GB 10,000 rpm FC-SAS disk drive module | + GET A QUOTE |
| 6122 | 600 GB 10,000 rpm FC-SAS FDE disk drive module | + GET A QUOTE |