Products
IBM TS3500 3584-D22 - Expansion Frame (3584-D22)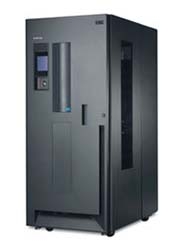 get a quick quote
The 3584 Model D22 Expansion Frame is designed for 3592 Tape Drives and 3592 data cartridges.
Up to 15 Model D22 Expansion Frames may be added to the 3584 Model L22, L32, or L52 Base Frame to increase 3592 cartridge storage or drive capacity.
Each Model D22 supports up to 400 3592 cartridge slots and up to 12 3592 Tape Drives, with an incremental reduction of storage slots for each set of four tape drives installed.
Each frame can have up to 12 logical libraries or 12 control paths (one per tape drive).
---
Feature Code
Name / Description
3592-E05

TS1120 Tape Drive

Description:

Show [

+

]

Up to 100 MB/sec native data rate, over 2.5 times the 40 MB/sec of the 3592 Model J1A, and over seven times the 14 MB/sec of the 3590 E or H Models Up to 700 GB or 500 GB native cartridge capacity, depending on the Enterprise Cartridge used. Dual-ported switched fabric 4-Gbps Fibre Channel attachments Hardware tape encryption to protect tape data integration with the new Encryption Key Manager component. Small form factor that allows double the drives in a single 3494 frame, as compared to the 3590 Tape Drive High reliability and availability design Additional performance and access improvements over the 3592 J1A

+ GET A QUOTE
3592-EU6

TS1130 Tape Drive

+ GET A QUOTE
3592-E06

TS1130 Tape Drive

Description:

Show [

+

]

Native data rate performance of up to 160 MB/sec versus the 100 MB/sec data rate of the TS1120 Tape Drive Model E05. With the use of the IBM 3592 Extended Data cartridge (JB), the TS1130 Tape Drive can format a cartridge uncompressed of up to 1 TB (3 TB with 3:1 compression) High reliability of the 3592 drive and media maintained and improved with added features: Giant Magneto Resistive (GMR) head technology introduced for the first time Head overcoat technology into tape, introduced for the first time, offering improved head protection and wear characteristics Improved standby power management that automatically reduces fan speed when idle to lower power dissipation and reduce the risk of unnecessary airborne debris contamination over extended idle periods Encryption capabilities designed to work with the Encryption Key Manager component. Encryption management methods supported include System, Application and Library Managed Small form factor to help improve space efficiency of your tape infrastructure. Dual-ported native switched fabric interface designed to enhance the attachment flexibility. High reliability and availability design.

+ GET A QUOTE
3592-J1A

Enterprise Tape Drive

Description:

Show [

+

]

Reduction in the number of tape drives and cartridges needed Reduction in the amount of floor space needed Up to 40 MB/sec native data rate, over 2.5 times the 14 MB/sec for the 3590 E or H Models Up to 300 GB native cartridge capacity, a five times increase over the 60 GB for the 3590 H Models Dual-ported switched fabric 2-Gbps Fibre Channel attachments Small form factor that allows double the drives in a single 3494 frame, as compared to the 3590 Tape Drive High reliability and availability design

+ GET A QUOTE