Products
IBM IBM Ultrium 2 Tape Drive (3580-L23)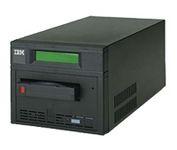 get a quick quote
The IBM 3580-L23 Ultrium Tape Drive offers:
Single Drive LTO-2
SCSI Ultra160 LVD attachment
200 GB external Ultrium tape drive with sustained data transfer rate of up to 35 MB per second (uncompressed).
On Board data compression hardware provides an effective capacity of up to 400 GB and an effective transfer rate of up to 70 MB per second, depending on the characteristics of the data transferred.
The 3580 provides a cost-effective solution for save/restore and archiving functions.
The 3580 Ultrium Tape Drive provides an excellent migration path from digital linear tape (DLT), 1/4-inch, 4mm, or 8mm tape drives, autoloaders, or libraries.
---